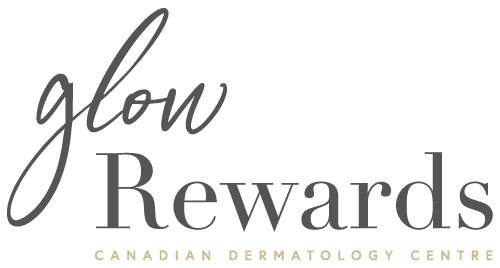 For every $2,000 you spend, save $100!
Learn about Glow Rewards Program, our exclusive rewards program for our loyal patients!
How does it work?
Every time you purchase non-surgical treatments or SkinCeuticals skincare products from the Canadian Dermatology Centre in person or online, you can earn glow points ($2 spent = 1 glow point).
Once you collect 1,000 glow points, you can get $100 OFF on your next treatment or skincare product purchase.
You may also bank your points for a bigger discount later on.
An example scenario
Let's say you purchased a chemical peel package for a total of $2,000. From this purchase, you earned a total of 1,000 glow points. Now on your next visit, you are eligible for a $100 discount on any SkinCeuticals products or non-surgical treatments
E.g. C E Ferulic from SkinCeuticals, which has a price tag of $190, is now only $90. You may choose to take advantage of this offer now or save your points for a bigger discount later on.
Which treatments and products are eligible for the program?
Most of our non-surgical treatments and all SkinCeuticals product purchases are eligible for earning and redeeming for points.
Eligible non-surgical treatments include:
Chemical Peels
Laser Hair Removal
Microneedling
Non-surgical Injectables
Other Laser Treatments
Can I also earn glow points for online shop purchases?
Yes! you can earn and redeem your points for both in clinic and online shop purchases.
Glow Rewards -
Frequently Asked Questions
Get started today
Contact us today to learn more about the Glow Rewards program and the steps you need to take to get started.
Consult with our
board-certified specialists today
Top dermatology and plastic surgery care
delivered in a comfortable environment
Schedule a Consultation